Siblings share a special bond and do not shy away from expressing it when they are young. The older ones often take care of the younger ones - sing to them or just hug them to show their affection. In a TikTok video by @stormybonds01, a mom shared a sweet moment between the siblings, Bentley and Bowen. The older one can be seen singing his version of the rhyme, "The Wheels On The Bus Go Round And Round," to Bowen. He sings, "Babies on the bus go 'oua, oua, oua' all through the town. Mommies on the bus go, 'sshh...ssshhh..' all through the town" while keeping his finger to the mouth. The baby also responds to his song by making noises and toward the end, Bowen does seem sleepy.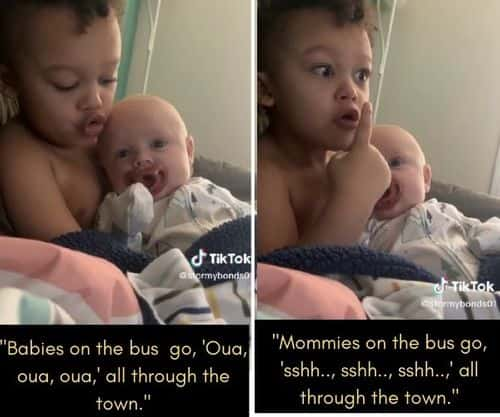 The video is captioned, "Bentleys the best brother ever. After Bent sang to Bowen for a little he ended up falling asleep." It has more than 2k views and 131 likes. Many on TikTok loved the heartwarming moment between the two. @rustiquecharmbyleese commented, "So sweet! 🥰🥰🥰" @larsy1209 wrote, "He is the most precious boy I swear." @beckydalton pointed out, " Awww my heart."
The same video was also posted on Twitter by @GoodNewsMVT. It has gained more than 5,400 views. The video is captioned, "The sweetest big brother. Goodnight everyone. Enjoy Bentley singing to baby Bowen." @kathyparent19 commented, "So sweet." @texaradogirl wrote, " How wonderful."
However, there is another side to having a sibling. In a TikTok video, a girl asked her friends what is it like to have siblings and they gave her a crash course in minutes. One friend can be seen putting his fingers into her drink and sprinkling it on her, then the other mixes her food and uses her chopsticks to play music on her bowl, and throws food on her. Then they eat her food, put some food on her chopstick with their hand, and start throwing things at her. A friend sitting next to her says, "Why are you touching me?" A little while later, he tells her, "Mom hates you!" It concludes with a friend telling her to "grow up." The whole experience was so traumatic that by the end of it, it looks like the girl wants to cry and regrets asking the question. The video was posted by @lonnieiiv and has about 1.7 million views.
It is captioned, "Don't ask, just bring it." @sheabuttercosplay commented, "Years of trauma in 40 seconds 😂😂😂😂😂😂" maddog69sb commented, "They understood the assignment instantly 😂😂" @raelee92 commented, "didn't hear the 'we found you at the zoo and brought you home' 😂😂" @majinn_t812 commented, "the accuracy haha we live for another siblings distress and the 'mom h8s you' was iconic." @aikwit commented, "You forgot the "you're adopted". Other than that, this is perfectly summed up. Now, she's had the sibling experience lol." @astriaalexa commented, "My middle child tells my oldest we are taking him to the adoption center daily 😂 siblings are something else."