Every bride wants to have those perfect shots at their wedding. They want the right lighting, perfect smiles and beautiful poses so that they could cherish it for years to come. However, it doesn't always go the way they want. Phoebe Batteson-Brown—who goes by @scared_cat_lady on TikTok— shared a video in which she showed the pictures from her wedding day and captioned them, "Someone didn't practice a 'soft smile' for their wedding day and it shows."
In the wedding pictures posted, Batteson-Brown can be seen laughing and showing her teeth in many photographs. It might not be the ideal pictures but they sure convey the joy that the woman felt on that day. In all the pictures, she is in her beautiful white wedding gown and in some of them, accompanied by her husband. In a few, she is walking out of the wedding venue after the ceremony, in another one she is having a glass of champagne and the next one is her showing the wedding ring. Though Batteson-Brown is not fond of her pictures, people on TikTok absolutely loved them.
@Jen9870 commented, "Aww it just shows how happy and excited you were." To which Batteson-Brown replied, "Honestly never been happy or more excited in my life!!" @spagz77 wrote, "So much personality and happiness in that smile. Those are the authentic ones!" @niftynest expressed, "No, but I love these smiles and captures so much! So much more real and joyful." @sherwoodforestcreations said, "I have photos of my mom like this and they are my absolute favorite because they're 'her.'" @gwefysmefys shared, "I'd never want to look back at my wedding photos and see a version of me that isn't 'me'. This is the way."
Although her wedding pictures are far from conventional, they display the absolute joy she felt in her heart on her wedding day. Women are often asked to behave in a specific manner, however, this bride broke those stereotypes and had the time of her life at the wedding.
Many brides like Batteson-Brown have several unique ways to make their wedding fun and memorable. Another bride had a fun idea and it sure did pay off. She shared adorable throwback pictures of her parents swapping outfits on their wedding day and on her D-day and she decided to do the same.
She documented the pictures in a TikTok video and people loved it. Rosie captioned it, "I grew up obsessed with these photos! How did we do? My poor dress." The text overlay on the video read: "I grew up obsessed with these photos! How did we do? We wanted to recreate the photos and surprise everyone on our recovery day. They (parents) were so proud." The video featured photos of her parents swapping outfits and then pictures of Rosie and her husband following suit.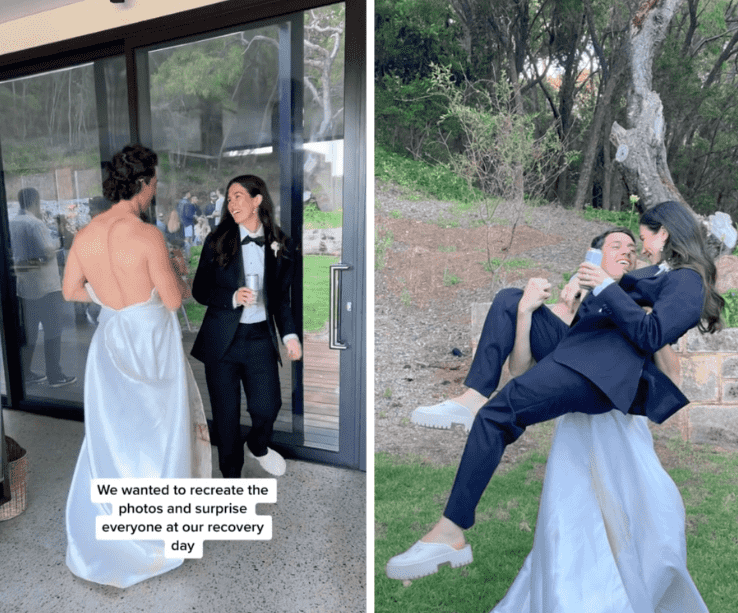 Some TikTok users compared Rosie's father to Dennis Quad and others said that the bride carried off the tuxedo really well. @user8331668883802 commented, "Your dad kinda looks like Dennis Quaid here. Anyone else sees it?" @sophieolleary wrote, "Your mum looked GOOD in that suit it was made for her, not your dad it's decided." @lovelylyssss shared, "The fact that your new hubby loved the idea shows you found the one.