Photos of a beautiful bride are going viral for the way she owned her natural gray hair, and people can't get over how gorgeous she looks. Kadeja Jackson Baker, 38, has had gray hair since she was 16, and chose to be herself for her wedding, winning applause from all sides. She was one of the standout brides of behind-the-scenes bridal TikTok videos posted by Miami-based destination makeup artist Tia Codrington. "I loved my bride's natural gray hair," said Codrington. The video shows Baker getting makeup applied to her face as her gray strands stand out in style. The video went viral and both Codrington and Baker were taken aback by the positive comments about her gorgeous look. Codrington praised Baker for embracing her natural hair color. "I initially didn't have any expectations when posting the videos other than to share her beauty through my eyes, but witnessing how she embraced and embodied the beauty of her hair was something I felt compelled to share," Codrington told Good Morning America.

"It was amazing to know that she had options to change her hair color or try something different for that day, but chose to be herself and wear her natural hair color. I love the girls that stick to their roots," wrote Tia Codrington. Baker herself was overwhelmed by the responses. "I did not expect for the responses to be as plentiful as I look at myself in the mirror every day and did not think it was that big of a deal that I was embracing my natural hair and look," she said. Baker said it was important to her that her bridal dress—a custom-made J. Del Olmo wedding dress—and her look be a true reflection of her personality and style, but with added glamor.
Baker opted for an old Hollywood glam pinup look with soft waves. She was styled by bridal hair specialist Martine Saintval. "Overall, I would describe the wedding look as timeless," said Baker. Codrington was instrumental in applying vibrant makeup to complement the Hollywood glam pinup that Baker was going for. "I tied in some elements of sultriness but was careful not to incorporate eyeshadow colors that would work against her head of grays," she said. Codrington said it was a common tendency to go for a nude lipstick but she upped the ante and went for a mauve lip color that played off her hair and skin complexion.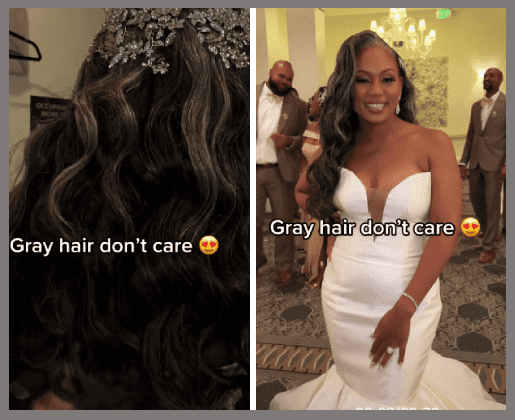 While many praised Baker for embracing her natural hair, Codrington said it was important to get the makeup right to accentuate her chosen look, and suggested they hire bridal artists who could curate a look that complements them well. "There is so much beauty in gray hair so understanding what color palettes pair well against different complexions is essential," she said.
"Fresh makeup is always a good option; opt for a more timeless look instead of following current makeup trends," said Codrington. "Ultimately, when in doubt, set up a bridal consultation with your bridal specialist to discuss what options would be best for you on your wedding day." Baker herself recalls her initial struggles with gray hair after her hair started graying when she was just 16. She felt the look was meant for older women and chose to rinse and dye her strands for several years. She felt it didn't match a young woman in her 20s.
She recalls embracing her natural hair about seven years ago. She stopped dyeing her hair and started owning it. "This is my natural hair color," she said. She is hoping to inspire others to embrace their natural hair as well. "Being the best version of yourself is the best thing you can offer to the world," she said.