When Janet Kelly and her fiancé, DaQuan Davis, were shopping for groceries, they received a frantic phone call. It was Davis' brother, Demetrius, babysitting their children Isabella, 4, and Shantel, 14 months. "He was like, 'The house is on fire, you need to get home,'" Kelly told TODAY. "My heart just dropped." Kelly's daughters Zoey, 9, and Chloe, 7, began to cry, thinking their little sisters did not make it out of the house. "They thought that Isabella and Shantel were no longer with us," Kelly says. After a terrifying 22 minutes, they discovered Isabella escaped safely, but Shantel was still stuck in her playpen.
That was when a pit bull mix named Blue stepped in to save the day. "Demetrius was able to get Isabella out, but Shantel was pinned in her playpen. Things were falling," Kelly says. "Blue followed Demetrius outside then he ran back into the house for Shantel. He was protecting her no matter what." Brave Blue had even altered firefighters to where Shantel was. "He was circling her and barking," she says. "And he wouldn't leave until she was out." Blue is treated to extra belly rubs at the Airbnb the family was offered free of charge for March. She and Davis own a lawn service company, but their equipment was destroyed in the blaze, and they did not have renters insurance. They have nowhere to go after April 1.
"I was a single mom when we moved into the house, and I could barely make ends meet," Kelly says. "But it was irresponsible of me. I just never thought something like this could happen." The family spent six nights sleeping in their van, and Kelly is scared of ending up there again, so she started a GoFundMe. "We still have to find housing and buy clothing. We lost everything," she says. "I worked so hard to have my own company, and now I'm looking at fast food jobs." The oldest daughter, Zoey, seems to be affected the most. "DaQuan gave her a dollar and then she came to me and said, 'I want you to have this. I know we don't have any money," Kelly recalls. "It broke my heart. She's a 9-year-old child."
According to Detroit Free Press, "Frozen" actress Kristen Bell has donated $2,500 to the family. A native of Huntington Woods, Bell's donation was confirmed by her publicist, Marcel Pariseau. The actress is well-known for donating to GoFundMe campaigns. For her birthday in 2018, she donated to an immigrant family and encouraged others to do the same on her Instagram. A week after the fire, the family raised $290, which was enough for two nights at a Red Roof Inn. As of today, over $100,000 has been donated to the family. "This is a nice stepping stone," Kelly said. "I just want to thank everybody that has helped out. ... I'm just very thankful that the community was able to come together. ... No more donations are needed."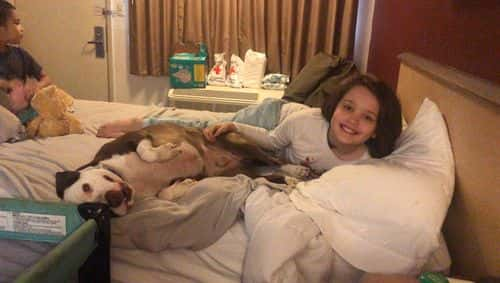 The fire also left Kelly and her fiancé, Daquan Davis, without jobs. Davis runs his own landscaping business, which is called Quality Cuts Lawn Service and Kelly is his bookkeeper. The only lawnmowers that they kept outside the house the morning after the fire was stolen. As for Blue, who saved the family from any further loss is being treated with extra belly rubs and TLC. "He's the sweetest dog," Kelly tells TODAY.com. "Pit bulls have a reputation for being aggressive. But I think it comes down to the way they were raised. Dogs are not born wanting to bite people. Blue will bark at strangers, but once he knows you're OK, he'll drop onto his back for belly rubs."