Love can be simply magical and when coupled with a surprise, it becomes a memory to cherish for a lifetime. Couples are going viral for their romantic and adorable proposal techniques and they are certainly raising the bar. A video of a magical proposal was posted by Semyonov (@semeov_ey) and Varvara Kuznetsova (@prostovarua) has certainly set a high standard for others to emulate. The duo had one of the cutest and endearing proposals and the wholesome reaction on the girl's face gives away her answer as well. The duo captured the moment and shared it on Instagram. However, it did not stop there. It went viral on several other platforms. The couple was out, presumably on vacation or trekking, when the guy decided to seal it with a ring.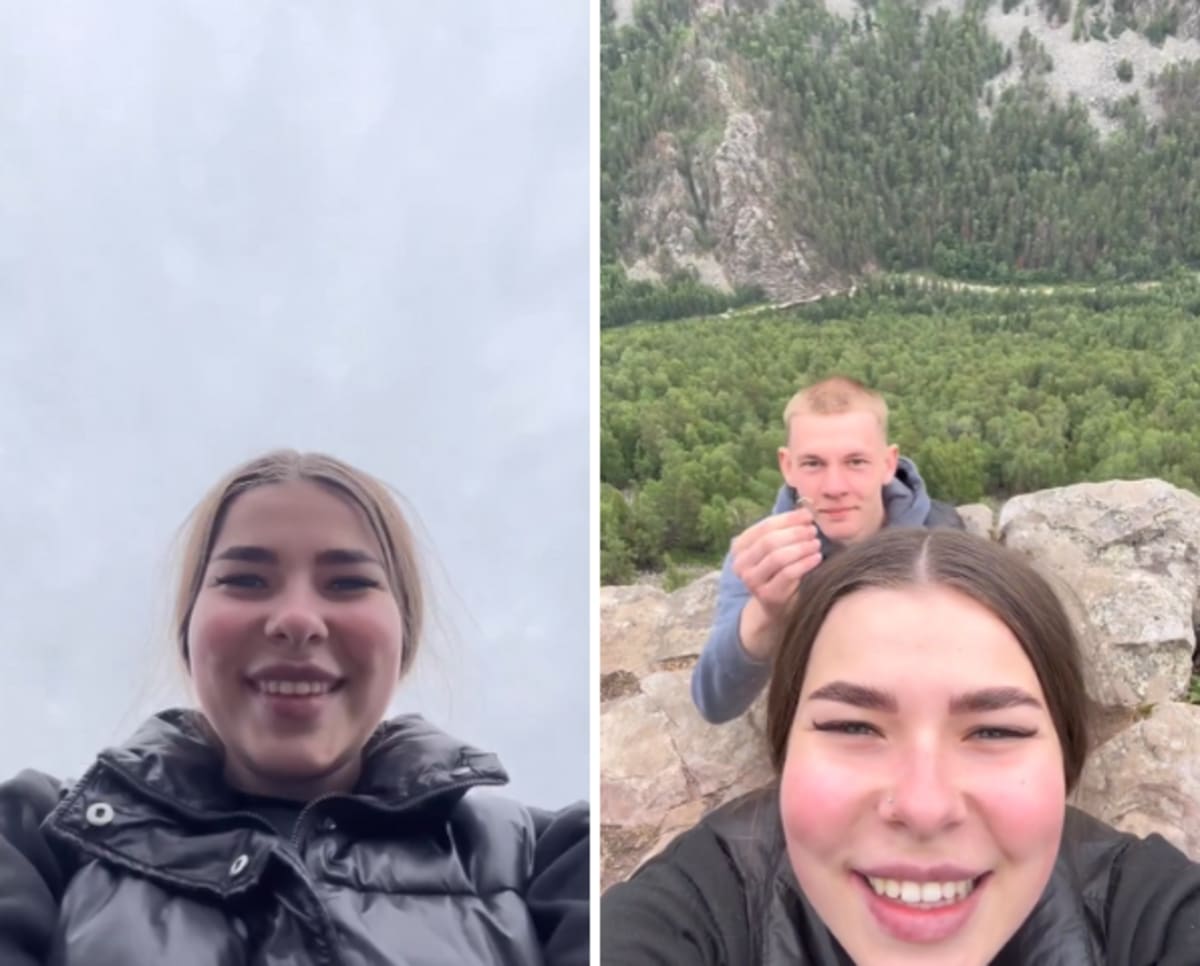 With the trend of couples surprising each other with proposals during a selfie, this duo decided to jump in. As Kuznetsova went out to get a selfie of themselves with nature's realm, she noticed Semyonov hiding behind her as if he were up to something. As the video was being captured by Kuznetsova herself, Semyonov took that opportunity and the opened ring box, revealing it to the camera. Looking at the camera in utter disbelief and surprise, she put down her phone and turned around in amazement. The realization immediately hit her that something surreal was about to take place. She immediately burst into tears of joy and could not contain the gratitude and happiness she felt within.
As Semyonov popped the question, with tears streaming down, Kuznetsova nodded in affirmation. She shared another post on her Instagram account with the caption that translated, "Officially dedicated to married life." Her video received over 4 million views. Commenters were pouring in congratulations, GIFs and emojis expressing their love and awe for the couple. Many even tagged their partners, hinting at a proposal or a romantically adorable gesture as this couple.
---
View this post on Instagram
---
Surprising one's partner with a proposal has almost become a tradition. However, with its aura, love and specifications, each proposal feels new and special. In another tear-jerking proposal, shared by u/EcstaticSociety4040 on Reddit, the scene was staged at a school.
---
View this post on Instagram
---
The students called animal control, where a woman officer was called to the school due to a "senior prank gone wrong." The woman reported to the school with her equipment to get her job done. Little did she know what awaited her. While there was a crowd to portray the chaos due to the "prank gone wrong," the students were then seen making a way to ultimately reveal the adorable scenario. The voiceover in the video further says, "But it was really all a setup for their beloved school resource officer to pull off this amazing surprise," as a poster reading, "Marry me?" unfolded. Then, a man is seen getting down on his knees and proposing to the woman as the crowd cheered on. With emotions flooding and the love embracing the air, the woman dropped what she was holding and said, "Of course." The video concluded with a wholesome embrace shared by the duo while the kids smiled and cheered on.