The impact of cerebral palsy (CP) on the life of people can vary greatly depending on the severity of the condition. For some, it may only affect their ability to perform certain tasks or movements, while for others, it may be more severe and require the use of assistive devices or constant care. Despite these challenges, individuals with CP can still lead fulfilling lives and achieve their goals with the right support. A beautiful example of this can be seen in a video posted by the Instagram account @luckylittlelenny, which shows a young child named Lenny, who has CP, walking for the first time.
Two teachers can be seen supporting him as he tries to take his first steps. As he is able to take those tiny steps, his classmates cheer for him and celebrate the win, which means a lot to all of them. It shows that with determination and the right help, individuals with CP can accomplish amazing things and should be celebrated for their achievements. It is important to note that people with CP should not be defined by their condition. They are individuals with unique personalities, talents and interests just like anyone else.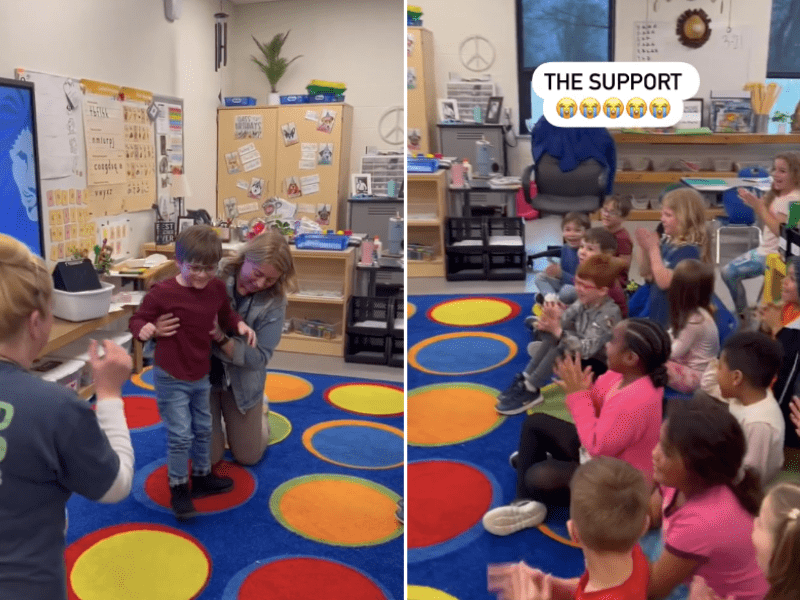 The comments section of the video is filled with encouraging comments for the child. Instagram user @jessie_hobart said, "This is SO cute!!!!! He's come so far! Love the cheering squad!" @shawna.phx23 commented, "Oh my heart. Lenny, you're amazing. Keep spreading awareness and inclusion!!!!!!" @the_sassy_saphire_cordelia_mer shared, "I'm not crying, you're crying. Having disabilities myself and not being accepted just gives me so much hope for this generation to teach and show so much acceptance." The video was also posted on Twitter by @GoodNewsCorrespondent and was well-received by people on the platform. The video has gathered over 158k views and support from people.
In another similar heartwarming story, despite being born with cerebral palsy, Matthew refused to let his condition hinder his aspirations. His hard work paid off when he received an acceptance letter from Harvard University. In a video with his twin sister, Magdalena, the pair can be seen checking the status of his application on a laptop. Upon discovering that he has been accepted, Matthew bursts into laughter while Magdalena is in disbelief, repeatedly exclaiming, "No way!" in excitement.
According to TODAY, Matthew was taken aback and utterly surprised by the news. He said: "I was completely in shock. I think it was just one of the best moments in my life." His sister, Magdalena, attributes his success to his unwavering dedication and effort and expressed her excitement, saying, "I get so excited every time I get to talk about it because Matthew worked so hard for this." Despite his remarkable achievement, Matthew's journey to this point was not without its challenges. He noted, "Not only did I have to challenge myself academically, but I also had to work hard physically to get to a point where I could pursue my goals."