Erica Wiltz, a model, opened up about her terrible experience at the Saks Fifth Avenue in Manhattan. Wiltz, who hails from New York City, documented the casual racism in a TikTok video that showed her waiting at the store and an employee walking away from her. Wiltz waited patiently as the employees of the luxury store catered to a white woman, the only other customer at the store. Wiltz saw that the staff were really nice to the white woman as she excitedly tried on a different set of shoes. She was happy to see her being treated that way and waited for her turn. They barely even acknowledged Wiltz's presence as she waited patiently.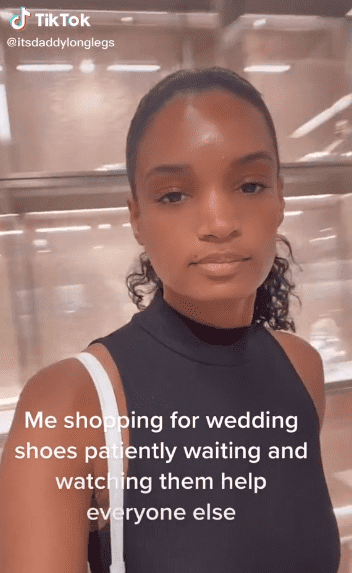 After a while, it became apparent to Wiltz that she was being ignored while they catered to everyone else. "Went to #saksfifthavenue excited to buy @jimmychoo wedding shoes and it turned out like this," wrote the model, highlighting what it feels to be Black in America. The video shows an employee walking away from her as she waited. She then posted a clip of an employee help her try on a pair of shoes and said she had really step in and demand some help. Wiltz left the stores in tears because of the way she was treated. "So after he's done with the lady, he never acknowledges my existence and I'm completely invisible. And he walks away. That's what you saw in the video. He just walks away. Doesn't even look at me. I'm invisible and until you experience that, you can't say sh*t about that experience because that is the lowest a human could possibly feel," she said.
Many Black people opened up about experiencing similar treatment at luxury stores. "People have no idea how traumatizing and dehumanizing it is," said Wiltz. Some of the people accused her of showing attitude. When one person pointedly asked her why she was being a drama queen, Wiltz responded, "Because people like you exist and it's tiring. You won't get it if you've never experienced it and DAILY!"
She also posted a second video explaining what happened and how she patiently waited for her turn. "No attitude. Just a woman coming to pick out shoes for her wedding day. Either way, it's wrong to discriminate against people, whether it's classism, racism, whatever it was. I didn't even mention racism in the video actually. I'm just telling the story. He goes to the back and I'm thinking he's going to come back and he never comes back. Then I'm like, 'excuse me, can I get some help?' He comes and he's just attitude. Very dry. I'm asking questions. He didn't want to answer them and he was just really dry and complete opposite of the service he gave to the woman before me," she said.