When you're hungry, nothing can dare come between you and food. And when it's dessert—especially Krispy Kreme's mouth-watering donuts—no one will say no. TikTok user @michaelmilligan captured one instance of this when he stumbled upon the chucklesome sight of three black bears invading a Krispy Kreme truck. The fluffy trio had no interest in their bystanders whatsoever and simply focused on their food. In his video, @michaelmilligan captured the three black bears delightedly munching on Krispy Kreme's finest indulgences in the back of a delivery truck that had been left open.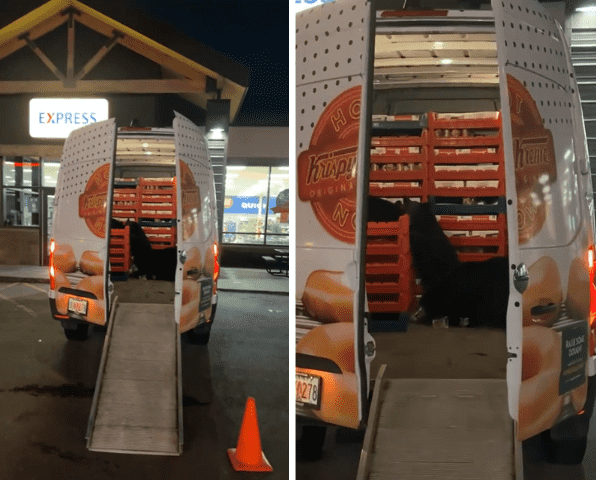 As he walks towards the truck, @michaelmilligan says: "Look at that dude, you don't see that every day." He lets out a giggle and zooms in on the uninterrupted trio that was determined to get their fill. He captioned the video, "Bears love Krispy Kreme too." This was evident in the video that went viral amassing over 66,000 views. According to WTHR, the driver of the truck was inside a store when one of the employees heard a slight commotion. Upon checking, they found the black beauties savoring the sweet delights.
On checking the damage, the employee said, "They ate 20 packages of the donut holes and I believe six packages of the three-pack chocolate doughnuts." Boy, those bears were hungry! The video received quite a hilarious response from commenters. @maniacpuma said, "I'd like to dine with these distinguished gentlemen." To this, @michaelmilligan responded, "I should have pulled out a chair, completely slipped my mind." @taylormoonchild said, "Imagine explaining this to your boss." @riekanesh commented, "Those are the 'bear' necessities."
Bears are quite content imbibing human traits and practices. There have been several instances of bears putting on their human acts that have been adorably hilarious. Another recent story shows a bear having the time of his life with a refreshing bubble bath on a hot summer afternoon. While the event wasn't initially planned, the 10-year-old furry guy Finn had quite an adventure splashing and rolling in the cooling waters.
---
View this post on Instagram
---
"As the zookeepers started to refill the pool they couldn't get the bubbles to go down. They allowed the bears to explore it and see what they thought. Finn is the one who took an interest. This was his first 'bubble bath' and he seemed to enjoy it," said the zoo manager Jonathan. The clip went viral on Facebook and while all the visitors had their share of laughter and fun, Finn was exceptionally busy rejuvenating in what was as good as a 'spa.'
"Remember being a kid and getting to play in the bubble bath? Well, it's just as fun for Finn, our 10-year-old black bear! It's hard to tell that he's around 450 lbs as he splashes around," read the caption of the video. The bear is indeed seen amused and relaxed by the waters. That's not all, thanks to his fun and frolic, the zookeepers are considering making this permanent so all bears can take delight in the pleasant activity.