Black activist athlete Gwen Berry turned her back on the American flag as the national anthem was played at the US Olympic track and field trials on Saturday. Berry, an outspoken athlete, who is known for her activism, believed it was a set-up. The national anthem is played once every evening at the trials, but on Saturday, it was played just as Berry stood on the podium after receiving her bronze medal in the hammer throw. As the Star-Spangled Banner played, she turned and faced away from the flag, in the opposite direction of the other two athletes. As the anthem finished, she held a Black T-shirt over her head, and on it were the words: "Activist Athlete." She then draped it over her head. "They did it on purpose,'' said Berry about the timing of the anthem, reported ESPN. "I was pissed, to be honest.''
Berry, who's vocal about the issues of her community, didn't mince her words when asked about the anthem. "I don't really want to talk about the anthem because that's not important," said Berry. "The anthem doesn't speak for me. It never has." Berry said her "purpose and mission" is bigger than sports. "I'm here to represent those ... who died due to systemic racism. What I need to do is speak for my community, represent my community, and help my community. Because that's more important than sports," she added, reported The Huffington Post. DeAnna Price and Brooke Andersen, who won Gold and Silver, faced the flag and put their hands over their heart. DeAnna Price, who won the event, backed Berry for turning away during the anthem. "I think people should say whatever they want to say. I'm proud of her,'' said Price.
It's not the first time Berry has courted controversy for her activism. She was handed 12-month probation in 2019 by the US Olympic and Paralympic Committee for raising a fist to protest social injustice in the US, while receiving a medal at the Pan American Games in Lima, Peru. Sponsors including Nike refused to renew contracts with her after the incident. While Nike spent the big bucks on backing Colin Kaepernick with evocative ads supporting racial justice, they pulled the plug on lesser-known athletes raising their voices, said Color of Change Senior Campaigns Director Jade Magnus Ogunnaike. "But they dropped Gwen Berry, and when we asked them to see her, they refused to pick her back up as a sponsor," said Ogunnaike, reported The Washington Post.
The USOPC later changed the rules, allowing athletes to protest at domestic events. They also apologized to Berry, both publicly and privately. Former President Donald Trump was highly critical of American athletes taking a knee during the anthem to protest racial injustice. She did confirm that she would wear the USA uniform if she were to win a medal at the Tokyo Olympics but added that she's always been conflicted on who America represents. "For me, it's always been something that's been underlyingly uncomfortable, knowing that I'm rocking this big 'USA' across my chest when everything about America is to demean and to keep Black people at the bottom of the totem pole," said Berry. "It has always, always, always been something I have been very uncomfortable with."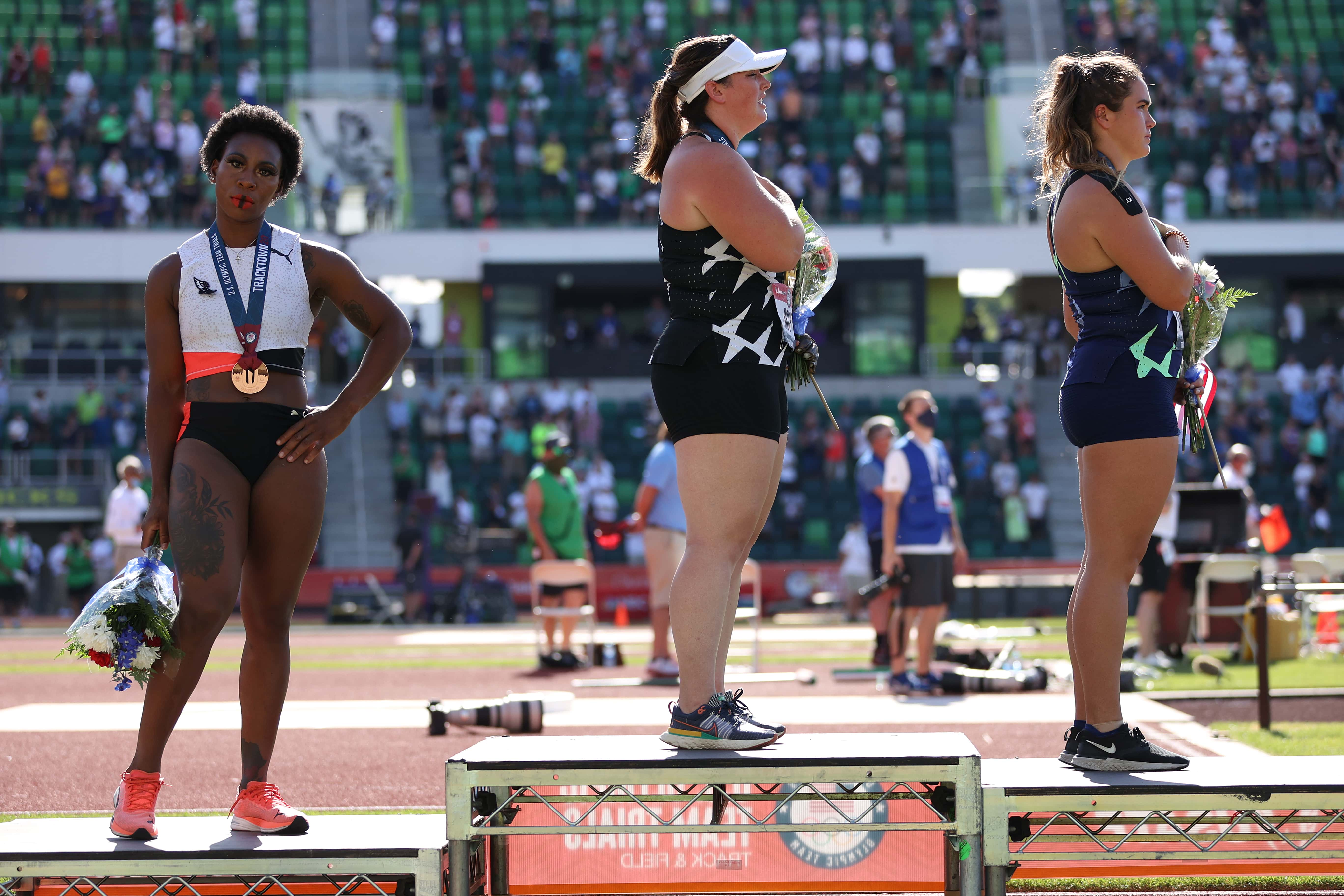 Republicans, conservatives, and right-wing media predictably pounced on the opportunity to attack Berry but most of the responses have been overwhelmingly positive. She responded to Fox News' story of the incident by tweeting: F*ck you." Former Wisconsin Governor Scott Walker and GOP member complained about it. "What is wrong with people? Growing up, everyone stood for the American flag. It was one of those civic rituals that brought us together. It still should today," wrote Walker. Walker was then inundated with pictures from the insurrection with Former chief of the Office of Government Ethics Walter Shaub reminding him that lying about presidential elections and "inciting insurrections" was unpatriotic, not what Berry did.