Editor's note: This article was originally published on November 18, 2021. It has since been updated.
It's no secret that U.S. healthcare is driving countless Americans into medical debt. Many Americans don't even seek the medical care they need for the fear of racking up debt. Those who had no choice but to seek medical help often share horror stories of humongous medical bills. Even something seemingly as simple as calling an ambulance is a nightmare for Americans. As we reported, a 9-month pregnant woman chose to walk to the hospital in the dead of the night than to call an ambulance. She was in labor but still decided to walk to save costs and that pretty much sums up the U.S. healthcare system.
Most Americans realize how bad the healthcare system is only when they see people from other countries share their medical bills which in the case of many developed countries is zero as they have free healthcare systems. Giving birth is an expensive affair in America and often leads to medical debt so one TikTok user (mslilyflowers) took to the platform to ask how old their kids were when they managed to pay off the debt accumulated from giving birth to them. Many shared their experiences and the costs are absolutely off the charts. TikTok user @mslilyflowers said her child was two years old by the time she managed to pay off the debt, reported Boredpanda. She later took down her account but many parents had stitched their videos to the original to share their experiences.
Most of the women who shared their experiences said they were lucky to have insurance but each insurance company has its own policy which means not every item is covered and there is still a lot of money to be paid at the end of it. One woman said she had triplets and racked up a bill of $3 million but was fortunate most of it was covered by insurance. Every insurance company has tie-ups with different hospitals which means that even going to the wrong hospital can mean you end up neck-deep in debt. According to a study published in the online journal Health Affairs, parents with employer insurance paid roughly $4,569 in 2015 for the delivery, the hospital stay, and the postpartum care. The study noted that any complications during birth meant the prices would vary and even having a C-section would drive the prices up.
The state of U.S. healthcare couldn't be better summed up than by a Canadian couple who said they only had to pay for parking, which they paid when they left the hospital. It was also the case for people who lived in countries like Canada, Australia, and the U.K., where the moms on TikTok were from, the biggest cost was the parking. And if they received any sort of bills from the hospital, it was because they chose to have a private room. Other than that, they didn't pay anything for the hospital stay.
Here are some of the people who shared the costs of childbirth from their respective countries.
1. Paid for parking
2. $88, 052
3. $88, for a private room
4. Zero
5. $128, 768 - "U.S. healthcare is so effed"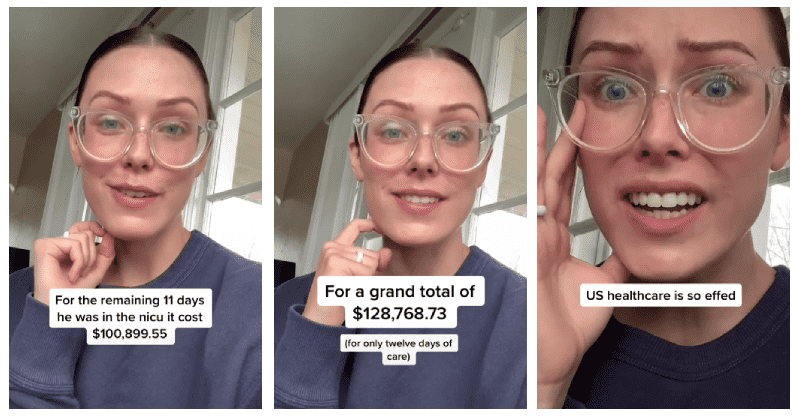 6.