These 25 hilarious unforgettable and Amazon reviews has the internet in splits
While negative reviews are common in an effort to warn others about subpar experiences, there is a unique category of reviews that stands out.
Image Source: Twitter | @weirdreviewss
Amazon reviews serve as a valuable resource for buyers and sellers, offering insights into the quality and satisfaction associated with a product or service. Typically, people leave reviews when they are dissatisfied, aiming to warn others about subpar experiences. Positive feedback is difficult to come by and constructive feedback is even more difficult. Among the myriad of reviews, there exists a special category of absolute gems - the unnecessary yet uproariously hilarious ones. One might wonder how such reviews come to be crafted with wit and humor.
The answer lies in the products themselves, which often result in unforgettable experiences. These experiences become the fuel for amusing anecdotes that individuals can't help but share through their reviews. Here are 25 hilarious Amazon reviews that will surely make the sellers raise their eyebrows in wonder and give them a five-star.
1. "Wrist rest"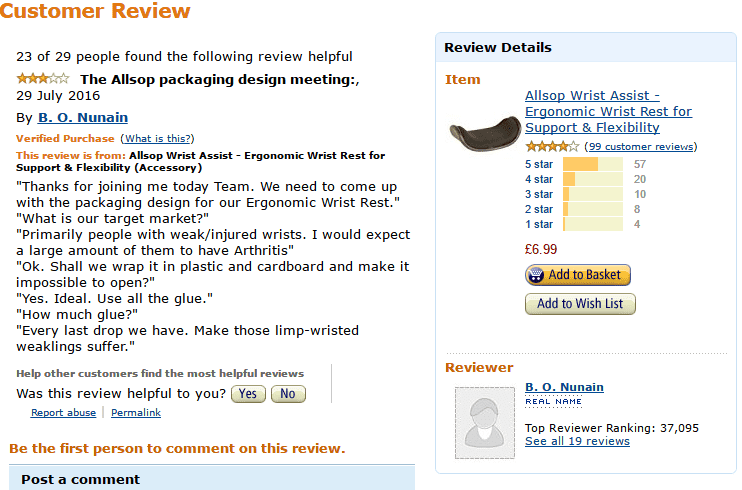 2. "Over the Rainbow Pot O' Gold St. Patricks Day Cookie Cutter"
3. "Might want to call HR"
4. "Yodelling Pickle product review - Better than Bieber"
5. "Green Ranger it is"
6. Confusing etiquette
7. "It's lube, not much more to say"
8. "Worked like a charm"
9. "Some life advice"
10. 55 Gallons of effectiveness
11. "r/murderedbywords"
12. "RIP Bob, the little Roomba (robotic vacuum) that couldn't"
13. "No complaints"
14. "How great is this"
15. "Two, please. I have some awful neighbors"
16. This shorts review
17. Are you sure that's for kids?
18. Too silent
19. Too scary
20. The missing D
21. Perfect to chew on
22. Not the right use
23. Drunk orderer
24. Mean
25. Perfect size