25 times people shut down homophobes online with savage responses
Folks call out bigotry and blatant ignorance when they come across it online.
Cover Image Source: Getty Images/titoOnz, Twitter/Benjamin Butterworth
Thanks to the tireless efforts and sacrifices of countless many, the world we live in today is far more caring, understanding and tolerant than it was not so long ago. Having said that, we are still eons away from calling ourselves an ideal society that's fair to one and all. Acceptance and inclusivity continues to be an uphill struggle as evidenced by how much racism, xenophobia, homophobia, sexism and other forms of intolerance still lurk out there online.
Fortunately, several incredible folks have taken it upon themselves to actively call out bigotry and blatant ignorance whenever they come across it online. Here we've compiled 25 of the most savage responses netizens have delivered against internet homophobes:
1.
2.
3.
4.
5.
6.
7.
8.
9.
10.
11.
12.
13.
14.
15.
16.
17.
18.
19.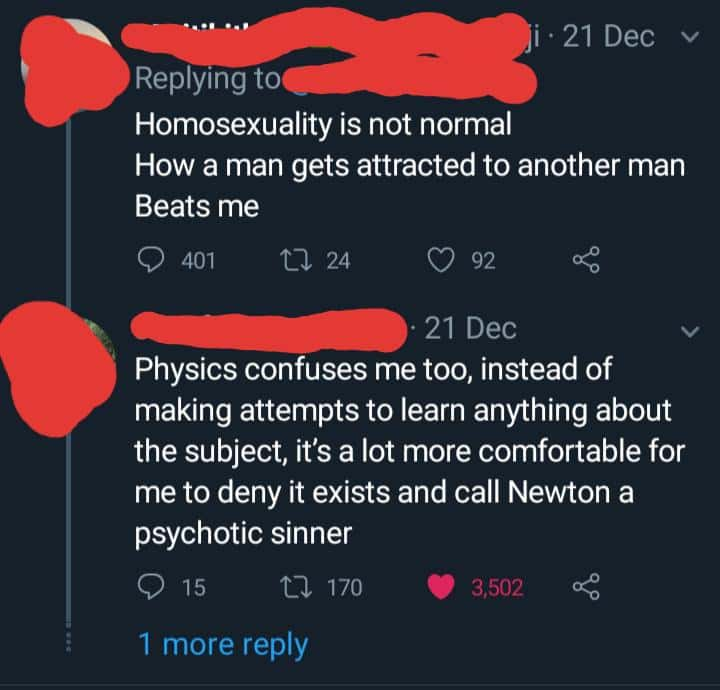 20.
21.
22.
23.
24.
25.