Editor's note: This article was originally published on August 6, 2021. It has since been updated.
Meg Vondriska, an advertising social strategist on the East Coast of America, was tired of male authors depicting female characters in an overtly sexualized and gendered manner. "Women just want to be written as human. That's it. There isn't some wild scientific equation to writing women, and it isn't difficult. Write them as human, with complex feelings, not as body parts that happen to be put together into a feminine form," Vondriska told Bored Panda. Frustrated, she began documenting the scariest and cringiest examples of men writing about women without seemingly having the faintest idea about them or their anatomy.
Vondriska's "Men Write Women" Twitter page now has over 70k followers. "I'm an avid reader, but the straw that broke the camel's back was a novel my boyfriend lent me, where the female character was described by her breasts and the male character was described by his personality. Working in advertising, I tend to be Very Online, and so taking my anger to Twitter seemed like a natural parallel. I was familiar with the Men Writing Women subreddit, but created a Twitter account in order to craft a consistent narrative and to build a community that wasn't hidden behind anonymity," she explained.
"Pay attention to what you're reading, and who you're reading. You have to make sure your bookshelf isn't made up of just men. Add in some spice—some female authors, some nonbinary authors, authors of color. And lastly, just because you were assigned a book in high school, doesn't mean it's good," Vondriska added.
Here are 25 examples of men writing female characters in an unrealistic and utterly uninformed manner:
1.
2.
3.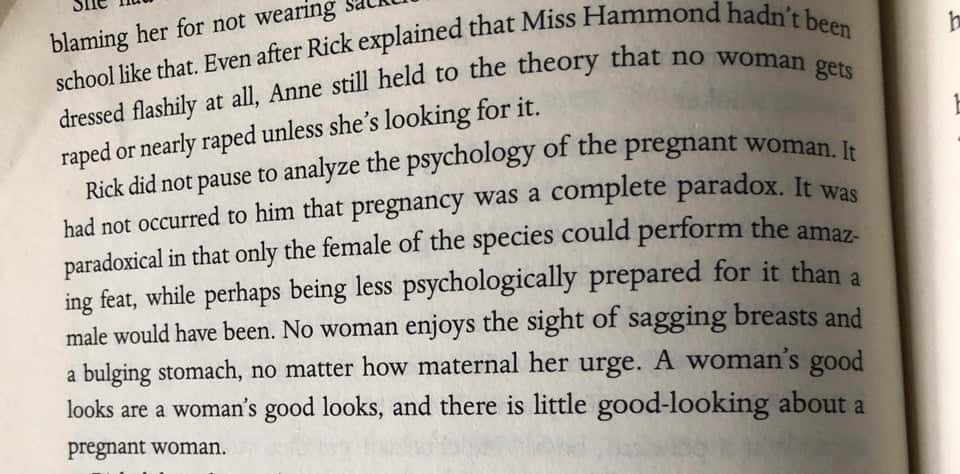 4.
5.
6.
7.
8.
9.
10.
11.
12.
13.
14.
15.
16.
17.
18.
19.
20.
21.
22.
23.
24.
25.