25 people from around the world talk about the American foods they really want to try
Non-Americans point out different types of food from American cuisine including regional and holiday food that they want to try.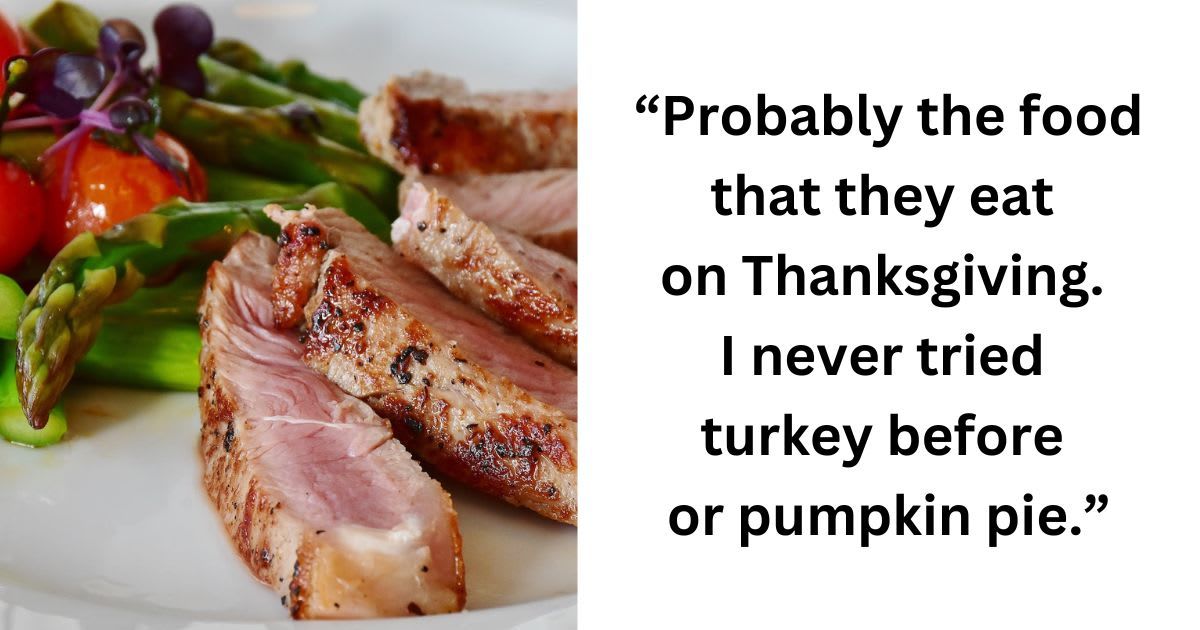 Representative Cover Image Source: (L) Pexels | Pixabay; (R) Reddit | u/latinagirl02
The cultural diversity in the US allows people from different ethnicities to live together sharing their customs and values. Some of the notable cultural blends can be seen in the recipes of American cuisine. The food in America is basically inspired by various parts of the world including Europe, Asia and Latin America. However, the country has managed to leave its mark on the world's culinary scene as one of the most vibrant and much-loved cuisines.
People from around the world are fascinated by this diverse cuisine so when a Reddit user, u/Material_Zombie, posted asking the non-American community members about "An American food they really want to try," oodles of contrastive responses poured in.
1. Briskets
If your answer isn't smoked brisket, your answer is wrong. Americans know BBQ better than anyone.
And I'll even admit that as a Canadian. - u/KitchenCanadian
2. Salisbury Steak
I'd love to try a classic Salisbury Steak with mushroom/onion gravy (brown sauce) and mashed potatoes. -u/Acidinmyfridge
3. Green Bean Casserole
Green bean casserole. As a Canadian, we eat a lot of the same foods, but green bean casserole is not popular here. -u/No-Definition-1986
4. Fried Chicken
There's a lot I wanna try, but if I ever go to NY, I'm stuffing myself with fried chicken from all stores in Harlen if I can - u/LegatusMalpais
5. Collard Greens
As a Filipino, Black American soul food. Idk, it all looks good, especially the collard greens and the country fried steak. - u/Cat_of_the_woods
6. Mac and Cheese
I hate to sound like an ignorant foreigner but a made from scratch Mac & Cheese with at least 3 different cheeses plus a crispy breadcrumb crust on top is one of my favorite American dishes. - u/BrandyBStamp
7. Thanksgiving Food
Probably the food that they eat on thanksgiving I never tried turkey before or pumpkin pie. -u/latinagirl02
8. Crab Louie
Crab Louie. Dunginess crab picked over a fresh salad with thousand island dressing and fresh sourdough bread.
It would be my last meal requested if ever on death row. Not the frozen stuff- it's flavorless- have to have FRESH crab. OMG- so good. - u/tennisgoddess1
9. Corn Bread
Corn bread. Out of all the foods, I'm curious to try that out. - u/ZIntrovertCF
10. Carolina Gold Rice
I've always wanted to get my hands on some of the Carolina Gold rice species.
I'm a rice lover from the Caribbean who's lived in Asia, so I've tasted a lot of varieties.
So yah... Some indigenous rice please. - u/MiniKash
11. Funnel cake
Funnel cake. It looks amazing. Is it amazing?! - u/BrashPop
12. New York Slice
Canadian here.... We have alot of similar food options, but I've always wanted to try a genuine New York slice. - u/beattybandit
13. Chili
Chilli. I could probably make some but never got around to it. - u/Vulkir
14. Philly Cheesesteak
Not much in terms of food other than a philly cheesesteak and BBQ. Would love to do a tour of American craft breweries though. -u/The5kyKing
15. Apple Pie
Apple Pie made by white haired grandma. - u/MegaJoltik
16. Southern Food
Southern food. Cornbread, gumbo, fried chicken, grits, Mac n cheese, collard greens, pumpkin pie, southern bbq, crawfish boil, brisket. Just - all of it. Southern soul food looks fire. - u/theimperfectionista
17. Burgers
I want to try your gigantic burgers that are just drowned in cheese sauce. - u/alexacutiegirl
18. Texan BBQ
True authentic Texas BBQ.
Here in Australia there are some "American bbq" places, but they look nowhere near as impressive as what the US shows. Worse even, many places put sauce on things like briskets and beef ribs.
Also, beef ribs here are small, I want those massive ribs with the length of am adult forearm. - u/UltraZulwarn
19. S'mores
S'mores
I always wanted some but i don't know what graham crackers are and not sure European chocolate would do it justice. I just watched The Menu and the weird chef disparaged it so now I want it more. - u/RandomUser5781
20. Fast Food Chains
Literally half of the chains, chick fil a, Popeye's, waffle House, hooters, little Caesar, Wendy's, jack in a box, cheesecake factory, olive garden. - u/BaronMerc
21. Biscuits and gravy
Biscuits with gravy. Looking at the photos online, I think I would like it. u/myfyp2
22. Hot dogs
I'm a veggie but those hot dogs you see being sold on new York streets.... So iconic lol. - u/robjapan
23. Chicago pizza
Chicago deep dish pizza. - u/chronolatch
24. Pop-Tarts
Traditional American delicacy. Pop-tarts. - u/PreludeWithoutAFugue
25. Tex-Mex
I'm surprised no one has mentioned Tex-mex or California style Mexican food. I've traveled to at least two dozen countries, and I've been to Mexico a half dozen times. Mexican-American and Tex-Mex is nearly impossible to find in other parts of the world. California style burritos are a thing of beauty. - u/Galaaska