25 instances when hilarious co-workers let their chaotic sides run free in the worplace
Working in an office cubicle must be a dull job but if you have jolly co-workers like these folks, your day will never be boring.
Cover Image Source: Reddit | (L) u/Dabrina_Meah | u/storky0613
Most of us working within an office cubicle have no time for cracking jokes or having a good chat with fellow co-workers to ease off the stress. When you step into your office, it becomes all about dragging yourself through the day, meeting tight deadlines, dealing with clients, or sitting through your boss' lectures about work ethics. But in some rare cases, if you are lucky enough, you just might end up finding a great workspace environment that is made livelier by at least one employee who can essentially be considered the life of the party.
So we have collected a bunch of pictures from Reddit to give you a glimpse of wholesome moments from the workplaces of various netizens where their co-workers or themselves were responsible for putting a smile on everyone's face with their efforts and antics. This shows that having a pinch of humor in your office space can create a healthy working environment, unify the team and even ease workload-related tensions to an extent.
1. "Happy retirement to my coworker that always brought us candy. Thanks for always being awesome, Mark!"
2. "I came into the office early and switched as many M and N keys on keyboards as I could. Some might say I'm a monster but others will say nomster."
3. "My coworker's motivational strip on his computer."
4. "It is my friend's birthday and the girls he works with decided to make him feel special."
5. "Coworker said she would only accept an official Apple Mouse so I dug this out of storage and left it on her desk."
6. "My coworker spilled wine in the office."
7. "We sent the new kid at work on a fool's errand to go buy some 'Elbow Grease.' He came back with his. This kid is going places."
8. "Yesterday, I came into work with a mustache. Today when I arrived, this was waiting for me."
9. "My coworker decided to put this picture on our card reader."
10. "Saw this at work and thought you guys might appreciate it."
11. "There is a tile moved at work for some reason. It's been moved for about two weeks. I decided to have fun with it!"
12. "A great way to get some work done."
13. "Dating at work."
14. "I went to my coworker with a question and found him totally alert and focused on the job."
15. "Blueberry containment had a leek, not a leak."
16. "My mom works at a nursing home with a covid-positive patient. One of her coworkers found a safe way to cheer them up!"
17. "After getting hit by a forklift twice in one week, my coworker started wearing protection."
18. "My coworkers got me a cake for my last day on the job."
19. "My colleague got stung in the mouth by a bee, boss framed the stinger and left it on his desk."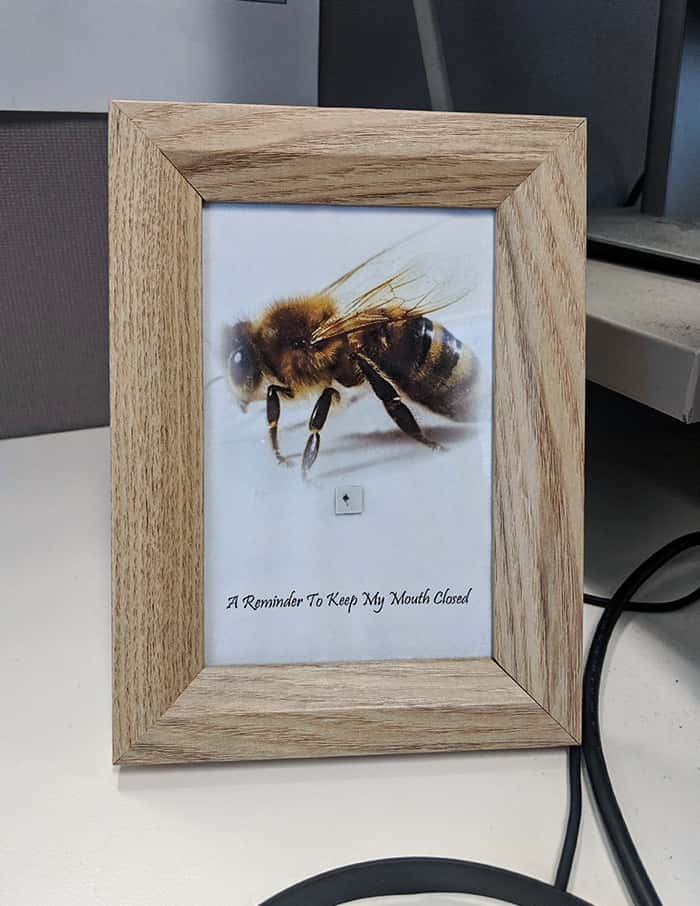 20. "The caliber of the people I work with."
21. "We have a cutout of our boss at the office for when he works abroad."
22. "Took pot brownies to work today. HR loved it."
23. "My coworker puts his coffee creamer in breast milk bags in the common fridge."
24. "Someone brought Cheerio donuts into work today."
25. "My coworker said she wanted a good-looking man to look at while she worked. I think I nailed it."