25 hysterical work memes that are so relatable we had to show them to our work besties
Everyone deserves a dosage of laughter and dopamine during work and these memes are the perfect bundle of both.
Cover Image Source: (L) Facebook | Tracey Lee; (R) Facebook | Lily Azak
The people you interact with at your workplace can significantly influence your mood and your will to perform the best job. Building friendly relationships with colleagues can turn even the most challenging workdays into enjoyable experiences. Conversely, being trapped in a toxic work environment under an unsupportive boss, alongside colleagues who seem intent on sabotaging you, would make you look for new jobs and move on in your life. Regardless of your specific work situation, chances are, you're not navigating it in isolation. There are many social media pages, like 'Work Memes,' where individuals enthusiastically share relatable, clever and thought-provoking memes centered around professional jobs.
These pages offer a humorous and relatable outlet for people to express their daily workplace experiences. It's a reminder that, no matter how unique your jobs and challenges may seem, there is someone else going through a similar situation in another corner of the world. Through humor and wit, these memes connect individuals from different professions, providing a sense of camaraderie and understanding. We've curated a fodder of the latest meme creations to share with you. So, whether you need a good laugh or seek solace in knowing that others share your work-related ups and downs, these memes have you covered.
1. Tit for tat
2. Angel on earth
3. We've all been there
4. Toodles, everyone!
5. Will I still keep doing it? Yes.
6. Hope he gets better
7. BRB, GTG cry
8. Setting boundaries
9. How to become 45 at 27: Lesson 1
10. Yes, I need this and not coffee
11. True words have never been spoken
12. Wonder what would have happened if they were lazy?
13. Hello, my dear friends
14. In all honesty
15. Sorry sir, there is a family emergency.
16. Ikigai, but 100% reversed
17. Universal phenomenon
18. Pros and cons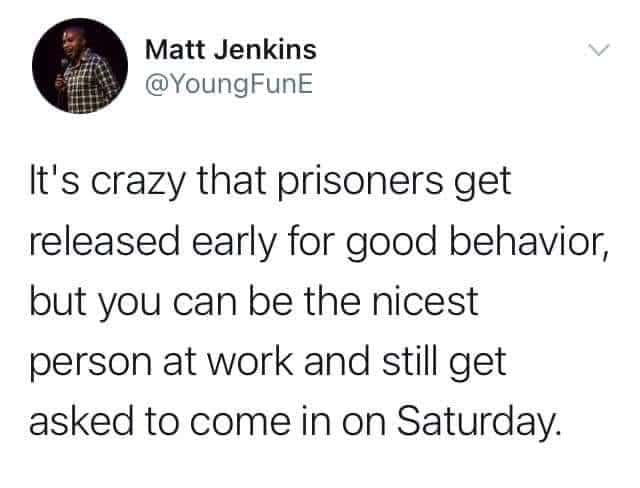 19. Spilling facts
20. Barely alive, but shows up
21. Work again!
22. If we see it, we die
23. Alexa, play "Oops I did it again!"
24. Well then, I am going to start working in ways that don't add value
25. Unsolicited opinions