Trigger warning: This story contains themes of gun violence that some readers may find distressing.

Google is honoring Alithia Haven Ramirez, one of the 19 children killed in the Robb Elementary School shooting in Uvalde, Texas. The 10-year-old had submitted a piece of artwork for the "Doodle for Google" contest and the company is now sharing the doodle, honoring her memory. "Doodle for Google" is an annual competition that encourages young artists to create artwork for the company's "Google Doodle." Google shared Alithia's artwork and an excerpt from her submission on its page, paying tribute to the victims of the Uvalde shooting, reported TODAY. "In memoriam 2022 Doodle for Google contestant, Alithia Haven Ramirez, 10," read the top of the page, followed by Alithia's drawing. The page is also dedicated to "all the victims of the Uvalde, Texas tragedy." In a statement, Google said the "story and art profoundly touched us, and we wanted to honor her family's request to share her unique talents that were so tragically taken as a result of senseless violence."
Alithia's artwork shows a girl sitting on a sofa with her feet up on the sofa, holding the ends of balls of yarn. She is joined on the couch by her pet dog. There is also artwork hanging on the walls of the sketch and it spells out "Google". She signed the sketch with her initials "AR" in purple. Beneath the sketch, the page displays something she wrote along with her submission. "I want the world to see my art and show the world what I can do. I want people to be happy when they see my passion in art."
Nineteen students and two teachers were killed in a mass shooting at the school. Matthew McConaughey also shared Alithia's art with the world during a White House press briefing as he made a plea for commonsense gun reform. McConaughey had traveled to Uvalde and met with family members of the victims including Alithia's parents, Ryan and Jessica, when they shared her passion for art with him. "Ryan and Jessica were eager to share Alithia's art with us and said that if we can share it, that somehow maybe that would make Alithia smile in heaven," said McConaughey, fighting back tears. "They told us that showing someone else Alithia's art would in some way keep her alive."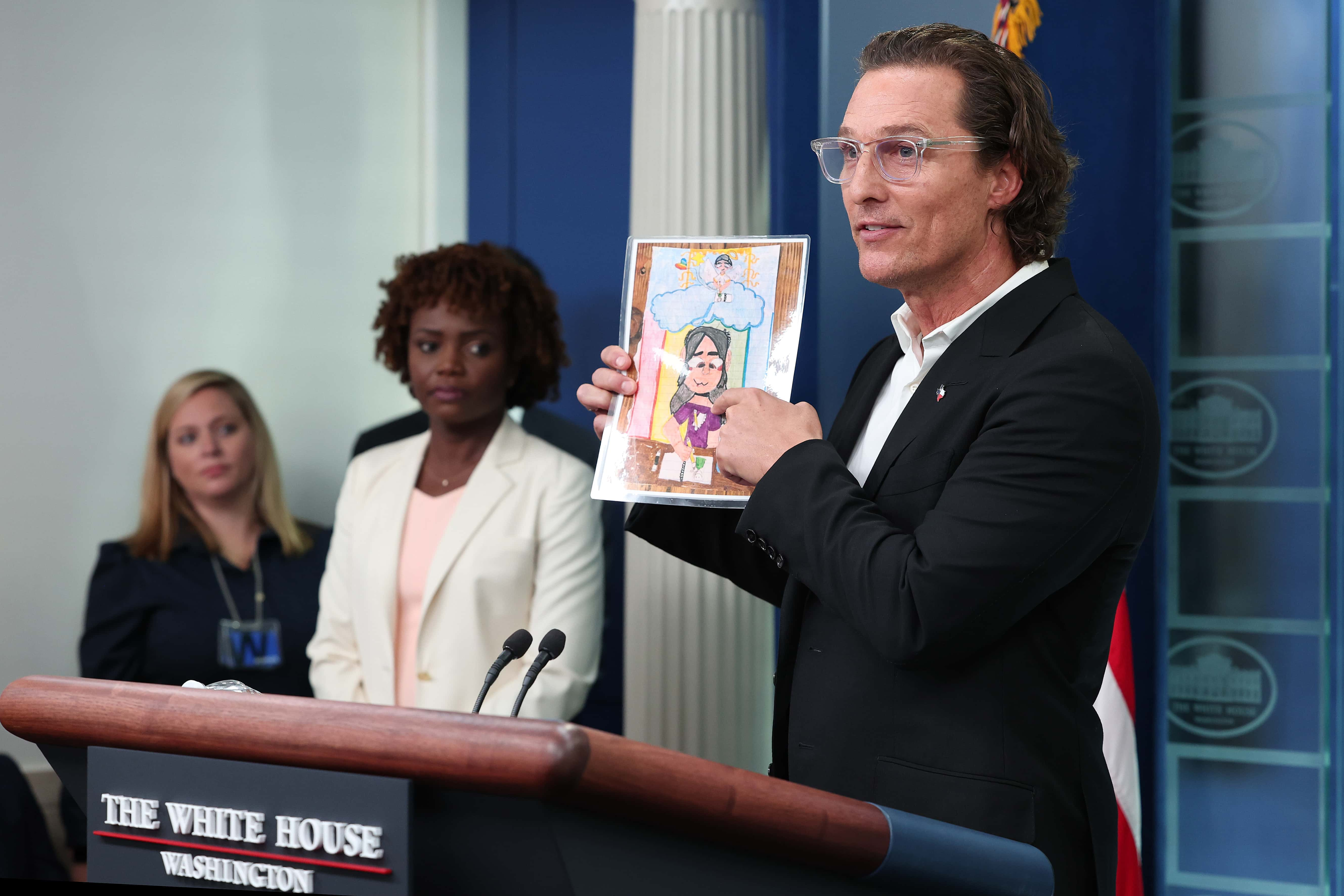 McConaughey held up a self-portrait Alithia drew of her friend looking down on her from heaven. "Her mother said of this drawing, she said, 'You know we never really talked to her about heaven before but somehow she knew,'" he said, before adding, "Alithia was 10 years old." He also listened to the parents of many other victims as well. "You know what every one of these parents wanted, what they asked us for?" said the actor. "What every parent separately express in their own way to Camila and me? That they want their children's dreams to live on. That they want their children's dreams to continue, to accomplish something after they are gone. They want to make their loss of life matter," he added. The actor recalled his association with Uvalde and guns during the briefing. He said it was the place "where I was taught to revere the power and the capability of the tool that we call a gun." He then added, "Uvalde is where I learned responsible gun ownership." The actor met with lawmakers to urge them to act on gun control. White House press secretary Karine Jean-Pierre confirmed he had "met briefly" with President Joe Biden "to talk about the importance of taking action keeping our communities safe."